This Lebanese Chicken Freekeh is the perfect recipe for a healthy lunch or dinner. Pan seared tender chicken thighs on a bed of fluffy Freekeh topped with golden toasted almonds. This hearty Freekeh recipe is ready in just 30 minutes. So GOOD!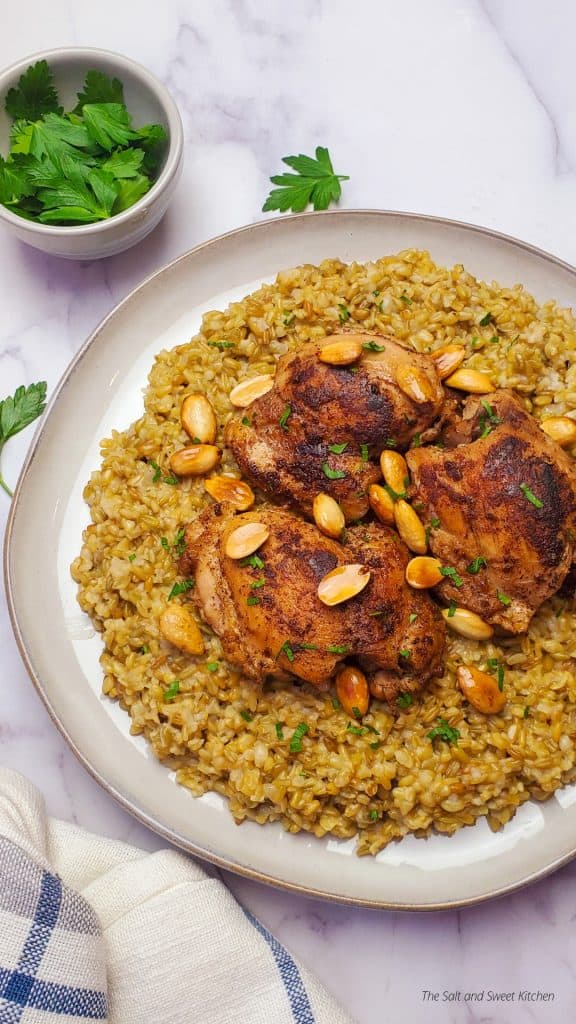 Chicken Freekeh
Freekeh is so delicious. Just a bowl of it with a dab of yogurt would suffice, but for the full effect, I topped my freekeh with a savory pan seared, golden crust, skinless and boneless chicken. SO EASY AND QUICK!
Wait… What is Freekeh
Freekeh, pronounced free-kuh, also known as frikeh, farik or fireek is a type of cracked wheat, similar to bulgur, but typically picked while still green and then roasted to achieve a slightly smoky and nutty flavor. Freekeh is very nutritious; It is rich in protein, iron and fiber. It contains almost 3 times as much fiber as brown rice and twice as much as quinoa.
How to Make Chicken Freekeh Recipe:
Pick over freekeh to remove any debris, rinse and soak for at least 30 minutes.
Cook the onions with olive oil until wilted, but not browned.
Add the rinsed freekeh and water and cook for 25 minutes.
While the freekeh is cooking, pan sear the boneless, skinless chicken thighs with olive oil.
Toast the raw almonds until golden brown.
Assemble the freekeh, by starting with a bed of cooked freekeh on serving plate, top with pan seared chicken, sprinkle some roasted almonds on top and garnish with chopped parsley if you like.
Serve immediately and enjoy!
How to Store Chicken Freekeh:
Store in an airtight container for up to 4 days. You can freeze cooked freekeh, without the chicken in a freezer friendly container for up to 6 months. Defrost overnight in the fridge before heating and serving.
Frequently asked questions:
Is Freekeh gluten free?
Since freekeh is a strain of wheat, it's not gluten free. To make this recipe gluten free, substitute quinoa for the freekeh, adjusting the amount of water and cooking time accordingly.
Where can I buy Freekeh?
You should be able to find freekeh at your local grocery store, usually in the grain isle with quinoa or at any Middle Eastern store. I've been finding it at Walmart and whole foods. You can also order it from amazon. If you can't find freekeh, substitute your whole grain of choice for the freekeh, adjust water and cooking time as necessary. Bulgur, farro, barley, whole wheat couscous or quinoa would make great substitutes for the freekeh.
What is the difference between whole grain Freekeh and cracked freekeh?
Cracked freekeh takes less time to cook than whole-grain freekeh, about 20-25 minutes versus 45 minutes, without compromising nutritional content.
More Lebanese Inspired Recipes with Chicken?
If you like this Lebanese Freekeh recipe or any other recipe on The Salt and Sweet Kitchen, then don't forget to rate the recipe and leave me a comment below! You can also follow and tag me on my Instagram page! 

Lebanese Freekeh Recipe with Chicken